Mallorca Boats Services and Storage
We are based in Can Picafort on the beautiful north side of Mallorca.
Here at Mallorca Boats Services and Storage we aim to make boating for our boat owners as hassle free as possible. We have an experience and qualified team of boat engineers and technicians to take care of your boat whilst in the water. And for safe and secure storage we have a purpose built marine warehouse.
You can trust us to look after everything from engineering, refits, storage and guardianage. Everything you need to keep your boat running smoothly, so you can simply relax and enjoy your boat.
---
Services Include:
Storage
We offer safe and secure inside storage for motor yachts up to 50 feet and secure outside storage for both motor and sailing yachts. You can leave it all to us.
Our qualified skipper will collect by sea island and deliver her back to you ready for your arrival.
---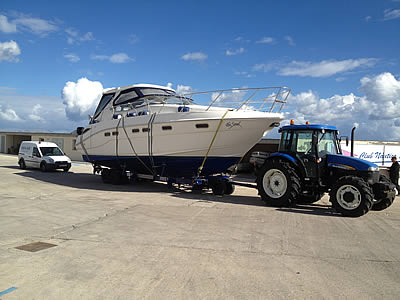 Engineering, services and general maintenance.
We have a fully qualified team of engineers and boat technicians to cover all of your requirements, from full refits, carpentry, engine services and repairs, electrical or plumbing work to cleaning, antifouling and winterization. We are your "one stop shop" for all your boating needs: carpentry, engine services (Volvo Penta Boat Dealer) and repairs, electrical or plumbing work to cleaning.
---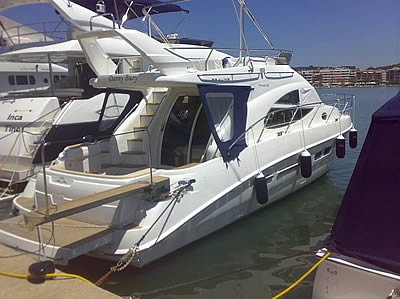 Guardianage
Not many of us can spend as much time as we would like on our boats, but when we do have some time we want to be able to get on and enjoy our holiday, not have this precious time spoilt by repairs, services and hours of cleaning. But leaving your boat unattended for many weeks/months often leads to this reality.
Our qualified team here at Mallorca Boat Services & storage can tailor make a guardianage package to suit you and your boat. So don't leave it to chance, leave it to us.
The most complete boat storage in Mallorca
A boat needs a good level of maintenance so it can be used without hassle, we offer the storage service that guarantees its safety. That is why at Mallorca Boats we provide you with the most complete boat storage Mallorca service on the island.
If you are going to buy a yacht in Spain, but you also want to have the peace of mind that your boat is always ready for when you want to cruise, this is the service you need. Not only do we have space to store your boat, but we also have a team of technicians at your disposal to repair and service your boat.
In case you are looking for second hand boats for Mallorca, do not hesitate to contact us to advise you and help you find the perfect boat for you. Let our team advise you and take care of the boat storage in Mallorca.